According to the Insurance Information Institute, in 2018 there were a total of 499,000 structure fires in the United States. Of those 18,000 were stores and offices, 11,000 were industry, utility, and defense, and 27,000 were storage in structures. Residential had the highest incidence at 387,000, with 86,500 of those being apartment buildings.
When constructing a building, fire barrier needs are only a small area of building construction, but very important for protecting the integrity of the building and saving lives. There are many areas of building construction where steps can be taken for fire safety.
To properly protect every building project, you need the following systems.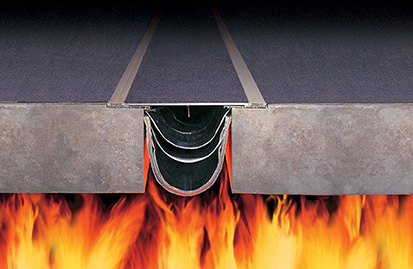 Fire Barrier Products
The key to having a building that is truly able to withstand fire is to use a combination of fire-rated products in its construction. The initial investment is well worth the lives it may save.
1. Acrovyn
Fire-Rated Doors
Designers and architects choose the Acrovyn door because of the wide selection of patterns and colors. It has the ability to withstand a heavy amount of traffic, making it ideal for office buildings, hotels, and apartments.
To qualify as a fire-rated door, it must have a fire-resistance rating as part of a passive fire protection system. The purpose is to reduce the spread of smoke and fire between compartments, allowing people to safely escape the building.
Construction Specialties' offers a wide variety of doors to meet all your fire protection needs:
90 Minute Fire-Rated Doors

60 Minute Fire-Rated Doors

45 Minute Fire-Rated Doors

20 Minute Fire-Rated Doors

Non-Rated Doors
In addition to the fire barrier doors, this company also offers Dutch doors, bullet-resistant doors, lead-lined doors, sound transmission control doors, barrier resistant doors, flush doors, and panel doors to meet all your construction needs.
2. Expansion Joint Fire Barriers
The design of expansion joint fire barriers help your building remain intact while preventing the spread of smoke and fire. This allows more people to safely evacuate the building.
The HFR fire barrier is a fire-retardant impregnated foam. The lower and upper facing surfaces are pre-coated with a silicone coating that is traffic grade. The cover is pre-compressed, sound suppressing, watertight, and fire rated.
The application is ideal for retrofit joints, plaza decks, parking garages, and stadium applications. It works well anywhere there is a necessity of having a watertight seal. This application is available in a 2-hour or 3-hour fire rating.
3. Blast-Resistant Louvers
Businesses such as VA hospitals, government buildings, power plants, and computing centers are vulnerable to explosion threats. Construction Specialties offers six blast-resistant models that meet government requirements and withstand blasts of up to 12 PSI.
The government requires louvers to remain in their frame and resist the blast to the extent that it does not become a projectile.
Blast-resistant louvers by CS provide triple protection against air movement, rain defense, and blast protection. This is an ideal addition for fire safety in an office that is vulnerable to an explosion.
4. Explosion Vents
If the business has a potentially explosive atmosphere and requires explosion venting, you may need the CS venting system to meet building codes. The purpose of an explosion vent is to serve as the weakest point of the building structure. When the vent detects an increase in pressure it opens to allow the expanding heated gases to release outside.
The vent also handles daily exhaust and intake ventilation requirements, making it an ideal solution. The system uses a magnetic latch that is calibrated to release when gasses reach a specific range. The Explovent Model ERL meets NFPA 68 Standard on Explosion Protection by Deflagration Venting.
5. Fire and Smoke Vents
The Explovent ERP-FS fire and smoke vent has a semi-rigid insulated core that can fit the façade of any building. This vent is ideal in buildings where high-pressure gaseous fire suppressing agents are used as a method of combatting fire. The unit responds to pressure rising during the time fire suppressant agents are being released into the area.
CS offers two models with slightly different methods of operation. On one the pressure trip switch becomes active by the suppressant being piped to the trip switch at the same time as its activation in the room. The pressure trip opens the vent, releasing pressure.
The electromagnetic latch system activates with the smoke or fire alarm system. When it senses a power disconnect it opens the panel by an increase of pressure in the room.
The purpose of these vents is to protect the ceiling and interior walls from the pressure that results from the release of fire suppressant agents into a confined room. The design has a non-industrial appearance, making it ideal for office space.
6. Cubical Curtains and Track Systems
When using cubicle curtains in hospitals or cubicles, you must follow fire safety codes. The NFPA 1 is what sets forth the proper operation of cubicle curtains, sprinkler systems, and the location of each so that the sprinkler spray is not obstructed. To meet this code you must use a method of hanging the curtains or use a fabric with a 70% open-weave top panel to prevent obstruction.
The NFPA 701 code establishes the standard methods of textile and film flame propagation. The test is the measurement of a fabric or material's flammability when it suffers exposure to different types of ignition.
For cubicle curtain testing a small sample is set on fire and measurements are taken of the flame, flaming residue, and char length. If the fabric meets NFPA 701 standards it is flame retardant. Be aware that the national standard of this code is not a requirement. Each state and local government establishes its own set of rules for these applications.
7. Acrovyn Corner Guards
The Acrovyn corner guards are an excellent choice for new construction. The SFS-10RN is flush mounted and features a bullnose cover. The continuous aluminum retainer offers the option of a 1 or 2-hour fire-rated installation.
In addition to the corner guards that carry a fire rating, CS Group also carries heavy-duty color guards and renaissance wood and metal corner guards, providing protection for your walls in every type of building installation.
8. DriftReady™ Stairs
CS Platform™ Solutions offers a wide range of options for all your steel balcony, modular stair, awnings, and seismic stair needs. The DriftReady™ Stairs are the first of their kind, moving with a building during a seismic event. This allows occupants and first responders egress and ingress in the event of an earthquake and/or fire.
Often in this type of natural disaster the stair systems experience connection failures, evacuation routes are compromised, and the safety of users is in jeopardy. The DriftReady™ Stairs is a system that accommodates the movement of the building and flexes so that the connection to the building is not compromised.
Barrier Safe Building


Constructing a building with fire barrier products protects the likelihood of occupants being able to escape the building in the event of an explosion or fire. We invite you to
connect with your local CS representative
to assist you with all your building needs. We offer a wide range of wall panels, wall coverings, doors, and more to fill your construction requirements. If you have further questions feel free to use our online form to
request additional information
.