It's that time of year again. Arguably, the greatest tournament in all of sports is upon us in the form of March Madness! 68 college basketball teams comprise the most scrutinized bracket in the country to determine the game's National Champion during the first weekend of April. And did you know that CS products are included in two venues playing host to action in the Big Dance this year?
In fact, CS has played a small part in tourney history beyond just the two we're about to highlight. Most recently, U.S. Bank Stadium in Minnesota (home to the NFL's Vikings) hosted the 2019 NCAA Final Four. The game was a thriller that was decided in overtime with Virginia winning their first-ever National Championship over Texas Tech, but some folks might have been distracted by CS' Perform Louvers. At least on their way in and out of the stadium.
This year, you'll have the chance to admire some of the work CS 'performed' in two venues hosting March Madness games. The East Regional of the NCAA Tournament will see The World's Most Famous Arena®, Madison Square Garden, host Sweet 16 and Elite 8 games on March 23 and 25, respectively. When MSG was renovated in 2013, CS provided our custom curved storm-resistant vertical louvers that fit perfectly into the arena's fluted alcoves.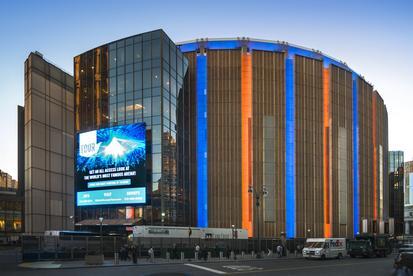 CS was also involved with the 2016 construction of the modern, glitzy T-Mobile Arena in Las Vegas, NV, home to the National Hockey League's Vegas Golden Knights. This 650,000-square-foot arena has 20,000 seats, 44 luxury suites, four balconies, and an enormous 85-foot-tall glass atrium. Our architectural louvers helped this arena become the only sports and entertainment stadium in Las Vegas to achieve LEED certification. Watch the West Regional games being played on March 23 and March 25 and be sure to notice the basketball glide through the arena's optimal airflow thanks to our louvers! Hopefully, the announcers will frequently mention one of the teams having a LEED in the game (wink wink).
Have fun watching all the action and cheering on your alma mater no matter what city you're in and check out some of the other sporting venues CS has played a part in, including a Super Bowl host city and at the World Cup.