From the initial concept sketch only CS can design and test a custom cover to meet your project's requirements.
@htagvalue>
We have a team of technical experts that can work with you to design a custom cover that meets your project's specific requirements. We can show you in person how your expansion joint cover will function and operate under real-life conditions with our exclusive full-scale test chamber, which has evaluated some of the industry's largest joint covers.
Project: California Memorial Stadium
Architect: HNTB Architects & STUDIOS Architecture
Product: Customized Seismic Stair System

Located directly over the Hayward Fault, California Memorial Stadium was the first facility to require 12" expansion, compression and lateral movement. In less than 21 months, we designed, tested and fabricated the custom joint cover assemblies for six seismic joint openings around the stadium bowl. These custom stair risers and treads throughout the stadium help reduce seismic risk and ensure life safety in a major seismic event.
Download Case Study
See additional projects

Tell us about your project
California Teaming (Left to right):
Scott Boyer, Matt Owens, Tim Persing, Pam Weihermuller, Rob Belvin, Tim Fisher, Kevin Smith
Meet the team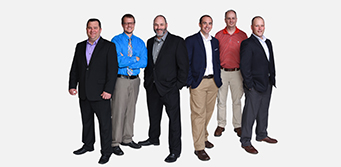 Videos
Seismic Tread and Riser Cycle Test
Learn more about the critical process behind testing and installing expansion joint cover systems for floors, walls, ceilings, roofs, and fire barrier. Understanding the proper protocols when it comes to expansion joint cover installation is crucial to pass inspection, as well as to ensure safety. Watch the Construction Specialties videos to learn more about expansion joint cover system testing and installation.
Additional
Support
@htagvalue>
By continuing to browse or by clicking 'Accept', you agree to the storing of cookies on your device to enhance your site experience and for analytical purposes. To learn more about how we use the cookies, please see our privacy policy.