Construction Specialties has been committed to innovation long before it was a buzzword.
@htagvalue>
Since we've always been dedicated to solving complex building challenges with our valued customers, this focus has led to many innovative product breakthroughs for CS — many of which are industry firsts. Today, CS is a global leader in all of our product categories. We've held nearly 500 patents throughout our 75-year history.
See our active patents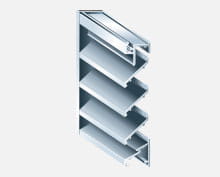 1955
To meet the demands of a large Navy contract, CS developed the industry's first extruded aluminum louver.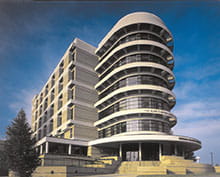 1956
CS introduces Sun Controls to the architectural community—recognizing the need to shade building interiors from heat and glare, CS introduced mechanically- fastened sunshades for exterior applications.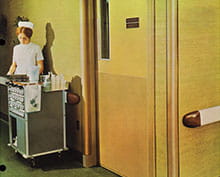 1969
CS introduces Acrovyn® Wall Protection that revolutionalized wall protection. It proved so effective that today it can be found in thousands of facilities worldwide.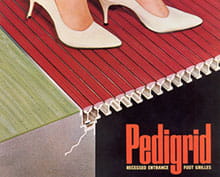 1972
CS introduces Pedigrid® and Pedimat® Architectural Entrance Grids and Mats that were designed to stop dirt at the door beautifully.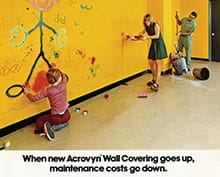 1981
CS introduces Acrovyn® Wall Covering and Panels product lines to coordinate with our durable Acrovyn handrails and corner guards.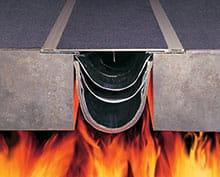 1983
CS develops the first Expansion Joint Fire Barrier to prevent the chimney effect of fires in expansion joints. CS developed the industry's first UL-approved fire barrier.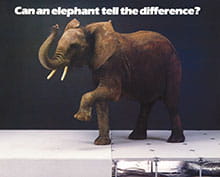 1983
CS brings reinforced concrete general access floor panels, known as Innocrete Systems, to the market.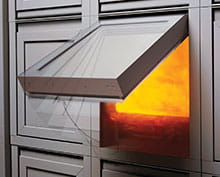 1985
CS introduces Explovent®, the first resettable explosion vent that can be field tested.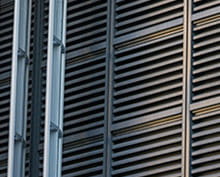 1994
CS develops America's first line of Rain Resistant Louvers that are twenty times more effective than standard drainable louvers. CS Storm Resistant Louvers are capable of stopping 100 mph wind-driven rain.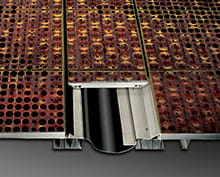 1996
CS invents seismic corridor covers for base-isolated buildings that provide the required movement while ensuring full corridor access and maintaining the neccessary fire rating.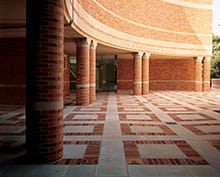 2000
CS introduces the industry's first line of "invisible" expansion joint covers, the SSR model, which CS invented in conjunction with Pei Cobb Freed & Partners.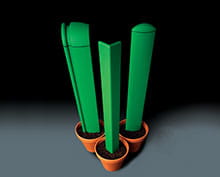 2004
CS becomes the first manufacturer in the wall protection business to launch a complete PVC-free wall protection line first known as Acrovyn® 3000.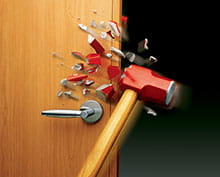 2004
CS launches patented CS Acrovyn® Doors, which are "virtually indestructible" and unlike standard wood doors they don't chip, split, or crack.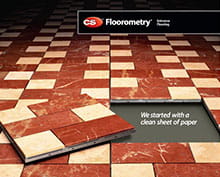 2009
CS introduces Floorometry®, the first modular entrance grid system, which changed the rules on entrance flooring forever with four revolutionary systems.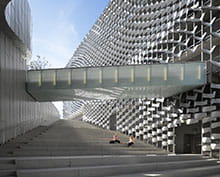 2010
CS launches Solarmotion Controllable Sunshades, which track the sun to maximize the control of light and heat entering the building's interior. Solarmotion significantly reduces a building's energy and capital equipment costs.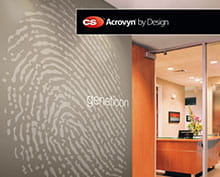 2012
CS introduces graphic wall protection called Acrovyn by Design® where photos, patterns, or graphics can be embedded behind our durable Acrovyn® rigid sheet.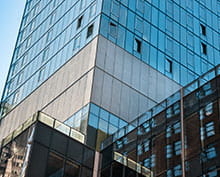 2012
CS launches Perform Louvers to provide all the air movement, security, and sight-screening of our standard louvers, but with our exclusive perforated façade that gives it a modern appearance.
By continuing to browse or by clicking 'Accept', you agree to the storing of cookies on your device to enhance your site experience and for analytical purposes. To learn more about how we use the cookies, please see our privacy policy.