It took a decade of planning and construction, but the new world-class Stanford Hospital began accepting patients in November 2019. A massive undertaking, the 824,000-square-foot facility that rises seven stories into the Palo Alto, CA sky has reason to boast. It features 28 state-of-the-art operating rooms, the only Level 1 trauma center between San Francisco and San Jose, an adult emergency room that is double the size of its predecessor and 368 thoughtfully designed private patient rooms. Additionally, the new facility doubles the patient care capacity of the previous hospital, which has begun renovation to become part of a cohesive, campus-type hospital experience.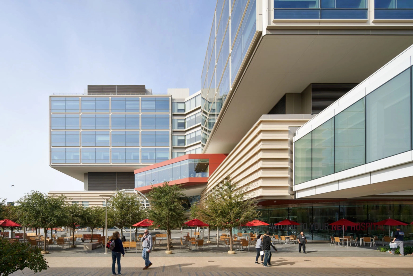 Stanford Hospital is located on the grounds of Stanford University, renowned for its groundbreaking medical research. When planning for the new facility began, internationally recognized Rafael Viñoly Architects and medical planners Perkins Eastman wanted the hospital to fulfill parent group Stanford Medicine's vision "to predict, prevent and cure precisely." They achieved that goal when Clark/McCarthy finished constructing the Stanford facility, which was designed to offer advanced care for the total wellbeing of patients. This meant including features that help not only the physical health of patients, but also contribute to their social, emotional and spiritual health.
According to a 2017 research study on patient comfort published in the Journal of Health Environments, patients need more than good medical care; they need to feel comfortable while they are hospitalized. The study reported that to aid recovery, patients need to have control of their privacy, not be "on display" to people walking in the halls and must feel secure with who enters their rooms. Patients also said that room design—the temperature, lighting and window blinds—also contribute to their comfort.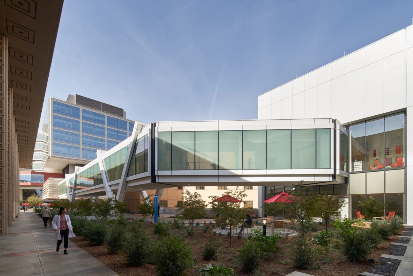 Lighting was a complicated consideration in the planning of Stanford Hospital. Construction Specialties got on board with the project, providing vertical sunshades, interior mechanical louvers and the interior woodgrain louvers that line the expansive entryway atrium dome. CS built oversized vertical sunshades that offer superior shade and comfort for East and West elevations. It wasn't an easy project, as creating louvers on a grand scale—typically 17' high and 7'6" wide—turned out to be the largest louver units CS had ever manufactured. It was also the first and largest faux woodgrain-finish louver project CS completed; it involved placing a heated ink applique over a powder-coat base layer to give the appearance of real wood.
Engineering, design and prototype testing of the massive louver sizes proved to be the major hurdle to overcome on the vertical sunshades project. CS built a full-sized mockup with the specific bracketry used to hang the louver units and simulated the actual installation sequence. The hospital design team was able to get a feel for the scope of the project and have the opportunity to suggest modifications that would improve the installation experience in advance of receiving any material.
When the project began, hospitals made up the highest louver-density market segment. Stanford Hospital was no exception, requiring an expanse of contiguous louvered area. CS was able to substantially increase installation efficiency, drive down costs and improve overall installation time by providing mega-sized vertical sunshades with pre-assembled brackets.
Going beyond the mechanics and functionality of design elements, Stanford Hospital's design and construction team were also focused on the trend in today's team-based approach to medicine: treating the "whole person." They incorporated elements designed to comfort sick patients and their families. In addition to delivering technically advanced operating and imaging suites and digitally driven patient rooms, they created a soothing, aesthetically pleasing environment. Stanford Hospital's campus offers four acres of gardens and sweeping views. A stunning metal sculpture—known as Buckyball—is the focal point for visitors and patients as they enter the front doors. At night, LED lights illuminate the sphere.
After 10 years of grueling work to build Stanford Hospital—named to U.S. News & World Report's "Best Hospitals Honor Roll" for the sixth time—the public is benefitting from state-of-the-art facilities, access to Stanford specialists and researchers, and a "human-centered" approach to patient care.
CS was proud to be part of it all, installing vertical sunshades throughout the facility—from the oxygen yard to trellises placed over outdoor roofs. "It takes that kind of intensity to do something extraordinary with your product—something that has never been done before," CS Senior Business Development Manager Sean Carver said, "and ultimately deliver an extraordinary solution for an extraordinary result."