Drawing ideas from several nearby residential buildings, DVA Architects planned the renovation of 77 Upper Rock Circle with Bognet Construction, J2H Partners, and DSC Partners. They incorporated elements of fractured design when planning changes for two lobbies in this mixed-use facility in Rockville, Maryland.
CS' representative on the project, Will Boardman, suggested fractured wall panels for their aesthetic. "There is no real performance reason to do fractured panels—they don't protect the wall any better [than traditional panels], but they create a noteworthy focal point. They allow designers to do something different without blowing the budget."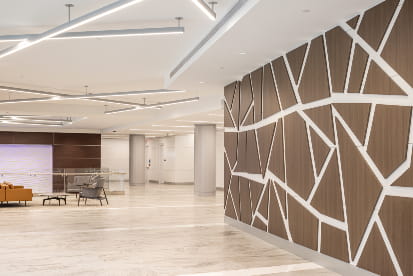 Furthermore, the design process can be much simpler than it might appear. "We tell the architect that all we really need to quote this is the height of the wall and the length, and then you just draw the panels the way you think you might want them. Our team at CS can extrapolate that in a manner that we can quote it and put it in the shop drawings," Boardman said.
Inspired by the irregular forms found in traditional trencadís (broken tile mosaics), CS used a geometric sketch to create a fractured wall panel design for 77 Upper Rock in Acrovyn® Woodgrain 1352 Fossil Teak with a wrapped square edge and ¾" depth.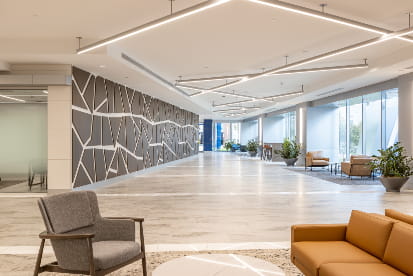 Both lobbies had existing substrates—gypsum in the lower lobby and tile in the upper lobby. Installing the wall panels in the lower lobby was relatively simple and utilized the Sure Snap® System to mount the panels. The tile in the upper lobby, however, posed a challenge as the owner didn't want to pay to remove it. The engineering team at CS worked relentlessly to determine the best method for mounting the wall panels while adhering to the architect's vision of utilizing the tile reveal between the gaps.
The solution? We used the French Cleat method of attachment to affix through the tile into the studs behind it, so the panels could hang on the studs. The resulting walls add a sophisticated, creative touch to the renovated spaces.