Navigating through uncertainty


During these times of heightened concern, many healthcare providers are looking at their readiness both today and tomorrow to face the next healthcare crisis. Beyond ensuring that their staff, vendors, and visitors are following proper cleaning and sanitizing procedures, many of them are also looking closely at how their design decisions and selections of equipment, furnishings, and finishes might help them to implement proactive, prophylactic measures intended to minimize their exposure, risk, and liability.


Is 'clean' really clean?


In any healthcare atmosphere, cubicle curtains are one of the primary defense mechanisms for protecting others from exposure to harmful bacteria. Though they are looked at as a shield of protection - cubicle curtains can also, unfortunately, provide the opposite results if cleaning protocols aren't adhered to precisely. Nurses and doctors frequently touch cubicle curtains throughout a patient's stay. Sometimes, if the hospital curtains aren't cleaned and sanitized correctly and quickly, it can become a bacterial transmission reservoir.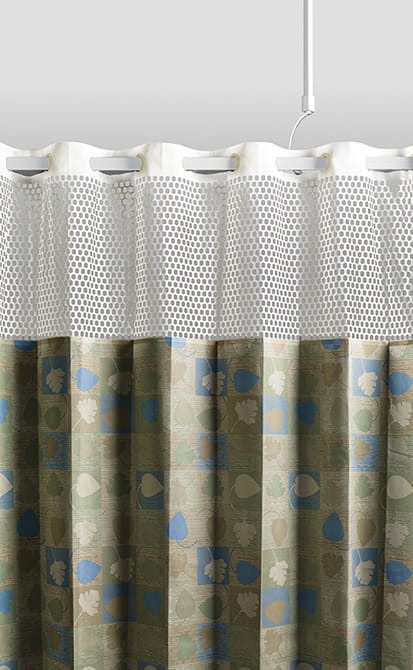 The solution: Disposable / Recyclable Curtains


Since the recent pandemic took hold, we are seeing increased interest and attention from healthcare providers in making hospital curtain changeouts easier, faster, and less labor-intensive. At Construction Specialties (CS), we believe the impact of having disposable curtain systems makes it easier to keep privacy curtains clean of dangerous pathogens and protects the physical health of the building's users. They are an excellent solution for critical care, isolation, and emergency areas, or wherever frequent, fast changeouts are needed. Check out the benefits these curtains can provide to your facility.
Disposable / Recyclable Curtain benefits:


Hygienic & Odor Resistant:
The prevention and reduction of microorganisms are vital to delivering a safer healthcare environment. Our disposable curtains are treated with an antimicrobial treatment, which helps protect against those harmful bacteria and bacteria odors.
Saves Money:
The process of changing out disposable curtains is simple - you just remove, replace, and repeat. After the curtain is done being used, they can be directly thrown away and discarded. That essential aspect decreases laundering costs and eliminates the labor needed for washings. Disposable curtains are a proven, cost-effective alternative when compared with the lifecycle cost of traditional curtains.
Appearance:
You don't have to sacrifice design for safety when it comes to disposable curtains. We offer a large selection of traditional solid colors and On The Right Track patterns to choose from - making it easy to provide privacy protection while still adding to the aesthetic.
Eco-Friendly:
Our disposables are made out of 100% recyclable material and are biodegradable.
In conclusion:


For more than 40+ years, Construction Specialties has provided the healthcare market with cubicle curtains and track solutions designed specifically to make changing or disposing of curtains fast and easy while adding to the aesthetics of your facility.

Whether you're interested in disposable curtains or any of our other selections of cubicle curtain and track systems, we are dedicated to creating a privacy solution that suits your exact needs.