In 2020, the average cost of just one visit from a commercial cleaning service was $0.11 per square foot. Multiply this by the square footage of the average building, and you've got a significant dent in your business's budget. The cost of a single cleaning in the average 19,000 square foot building equals $2,090. Multiply this by the many cleanings your building needs each year, and the dent in your budget grows deeper.
So how can you reduce the cost of keeping your building clean? Among the best solutions is the walk-off mat. Walk-off mats offer many benefits, and enjoying these benefits requires choosing the right one. Read on to learn more about choosing the best walk-off mat for your needs.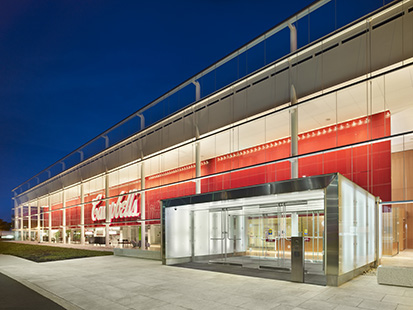 What Is a Walk-Off Mat?

The walk-off mat is a type of floor mat that's used in the entryway of a building. Most often, they are placed just inside the building's entrance. Some businesses choose to place them directly outside the door as well. This outdoor placement can be effective if the area is covered from the elements.Walk-off mats wipe or scrape dirt and other debris from the soles of shoes. They also trap moisture. Thus, they feature a rugged and absorbent surface with a slip-resistant backing.
What Are the Benefits of an Entrance Mat?
Entrance mats offer many benefits. These include easier cleaning and maintenance, improved safety, and style.
Easier Cleaning and Maintenance
One of the most significant benefits of walk-off mats is their ability to remove dirt before it enters your building. Entryways are among the busiest areas of commercial buildings. They can also be among the areas most difficult to keep clean. Dirty entryways are a problem, first, because they leave consumers with a negative first impression. However, dirty entryways also pose deeper problems. Without a walk-off mat to trap dirt and moisture, these elements can make their way deep into the interior of your building.
Invasive dirt and moisture make cleaning more difficult and more expensive. Industry experts estimate that floor maintenance accounts for up to 80% of a building's cleaning budget. Furthermore, removing dirt from your building's floors is an expensive proposition. In fact, it costs over $600 to remove every pound of dirt from your building's interior.Fortunately, investing in walk-off mats can help. One dollar spent to keep dirt out of a building saves $10 on efforts to remove dirt later.
While cleaning dirty floors is expensive, replacing damaged floors is even more expensive. Over time, invasive dirt and moisture can significantly damage interior floors. Once again, though, walk-off mats can help by preventing dirt from getting past the front door. For maximum protection, industry experts recommend at least 15 feet of matting at all building entrances.
Improved Safety
Dirt is dangerous to your floors and your budget. Meanwhile, moisture is dangerous to your employees and clients. Injuries from slips and falls are among the most common causes of worker's compensation claims. By trapping moisture at the entryway, walk-off mats keep your floors dry. In turn, they keep your people safe.
Style
The time clients spend in your entryway represents their first contact with your business. In business as in life, first impressions are important. Walk-off mats maximize these impressions in a few ways.
First, they keep your entryway clean. A clean entryway tells clients that you are conscientious and attend to the details. Second, walk-off mats introduce clients to your business's style and values. Walk-off mats include a variety of options to match any aesthetic. Customized mats can also include logos and messages to greet your clients.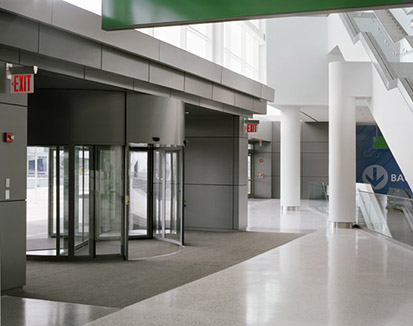 How Do You Choose a Walk-Off Mat?
Enjoying the benefits of a walk-off mat requires choosing the best one for you. Choosing the best entry mat begins with understanding your options and matching those options with your unique needs.
What Are the Different Options for Walk-Off Mats?
Different types of walk-off mats use different materials and designs. Each is suited to different needs and budgets.
Pedimat
Entry Mat Systems
The most advanced walk-off mats, like the Pedimat system, combine lightweight aluminum rails with carpeted inserts. These mats are highly effective for the most heavily trafficked areas. They are also ideal for locations that experience significant rain or snow. Finally, they feature sound-absorbing cushions. Therefore, they can reduce noise in the most crowded areas of your business.
Whether recessed or surface-mounted, the rails in these mats maximize "fall through." In other words, they trap dirt and moisture below the surface. These rails are also lightweight which allows them to be rolled up for easy cleaning.
While lightweight, the Pedimat system is also durable. It can withstand heavy foot traffic and has a rolling load capacity up to 350 lbs. Construction Specialities offers two models of the Pedimat system. The Pedimat M2 Entry Mat uses all-aluminum rails. Therefore, it offers the greatest durability. The Pedimat M2's all-aluminum construction is also suitable for exterior use.
The Pedimat M1 Entry Mat offers a more economical option for interior applications. It combines aluminum and vinyl rails with aluminum hinges. Both Pedimat models are available with tread inserts of various colors. Custom finish options also ensure the rails match any décor.
Helix Entry Mat System
The Helix system uses modular tiles that snap together and are held in place with hidden connectors. Like the Pedimat system, Helix tiles can be recessed or surface-mounted. Also, like Pedimat, the Helix system offers exceptional fall-through capabilities. With the Helix system, dirt and moisture stay locked beneath the surface of the mat.
The Helix system again offers two models. Helix HZ1 tiles use a recyclable, UV-resistant rubber & vinyl compound. HZ1 tiles scrape dirt and debris from the soles of shoes. However, they are most effective in drier locations. Locations that experience more moisture see the greatest benefits from Helix HZ2 tiles. HZ2 tiles incorporate durable carpet inserts for increased absorbency.
Helix tiles are available in black, brown, or grey while HZ2 carpet inserts come in a wide array of colors. You can also choose between MonoTuft HD inserts for interior uses or Exterior Brush Tread inserts for outdoor mats. Both HZ1 and HZ2 systems can withstand rolling loads up to 600 lbs.
DesignStep Entrance Mats
DesignStep is a heavy-duty carpet solution. It is 3/8" thick and highly durable. It won't buckle or roll under equipment or foot traffic. It also significantly reduces the amount of debris that reaches your building's interiors. Importantly, DesignStep carpeting dries quickly even in high-moisture areas. DesignStep carpeting is ideal for use in walk-off mats. These mats combine a carpeted surface with a slip-resistant backing. However, DesignStep carpeting is also available in rolls and tiles.In any application, DesignStep carpeting offers five patterns and eight colors. It can also be customized with your logo.
Watershield Mats
Like DesignStep, Watershield is available in mats, rolls, and tiles. They are effective for indoor and outdoor applications. As the name suggests, Watershield mats trap excessive moisture within the mat's patterned design. In fact, the patterned design—and its durability—is what sets Watershield mats apart. Watershield walk-off mats combine polypropylene with rubber reinforced carpet nubs. This construction ensures that the nubs hold their shape and continue to function effectively.
Watershield patterns include:
Square

Diagonal

Diamond

Geometric

Eco Elite
These patterns combine function and style, especially when combined with your choice among several color options. Like other CS flooring options, Watershield walk-off mats can also be customized to include your logo.
Coco Mats
Coco mats are an increasingly popular option among business owners and homeowners alike. Coco coir is a natural material harvested from coconut husk fibers. As a natural and renewable resource, coco appeals to environmentally conscious businesses. At the same time, coco entrance mats are highly visible to consumers. Thus, they send a message to environmentally conscious consumers that your business shares their values.
Coco is extremely durable, quick-drying, and mildew-resistant. With its rugged texture, coco is ideal for walk-off mats. Construction Specialties offers natural and synthetic coco mats. Even our synthetic mats use 67% recycled content. They also provide all the benefits and style of natural coco mats. However, they eliminate the problem of shedding that can frustrate some facility managers. Both natural and synthetic coco mats are bonded to a heavy-duty vinyl backing. This backing is durable and slip-resistant. Whether natural or synthetic, coco mats are available in an array of colors.
Vinyl-Backed Mats
Vinyl-backed walk-off mats are lightweight. They are also the most economical. Thus, they offer a good choice for buildings that experience limited traffic and dirt. They are also effective in lower-traffic areas, like side entrances and kiosks, of even the busiest buildings. Choosing more economical walk-off mats for these locations saves money without sacrificing functionality. Saving money in low-traffic areas means you can choose even more durable mats for busier areas of your building. When you choose an economical option like a vinyl-back mat, you also need not sacrifice style. In fact, you'll choose between two resilient DesignStep carpet options and a full range of colors.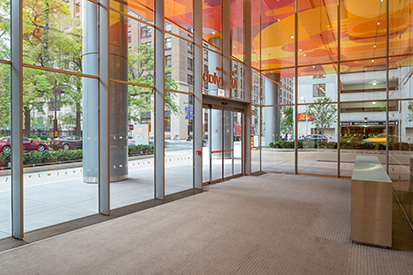 What Walk-Off Mat Is Best for Your Needs?
A wide range of options for walk-off mats ensures that one or more options will fit your needs. Still, choosing among them can be overwhelming. The following questions can help you sort through your choices:
What climate conditions does your building face?

Are you aiming to control mostly dirt and dust? Or are moisture and even ice and rock salt additional problems?

Where will your mats be located?

Are you looking for interior or exterior mats (or both)? Will your mats be visible to the public?

Do you prefer recessed or surface-mounted mats?

Can your facility and budget accommodate recessed mats?

How much foot traffic will your mats experience?

Will your mats bear the weight of equipment and other rolling loads?

If so, how much will these loads weigh?

What is your budget?

If your budget is limited, can you identify places that experience less traffic and that could, therefore, use more economical walk-off mat options?

Do certain values, like sustainability, factor significantly into your decision?

Are you seeking additional benefits, like sound-control, from your floor mats?


Using Entrance Mats Is a Walk-Off Win
The walk-off mat for commercial building entrances is an all-around win. Entrance mats protect your floors, your budget, and your people from invasive dirt and moisture. Choosing the best walk-off mat requires knowing your options and your needs. While this article helps you begin that process, the experts at Construction Specialties can guide you the rest of the way. Contact us today to request a quote or more information.