Miami Dade County Impact Test approved
@htagvalue>

Miami Dade County Certified and built to withstand hurricane and tornado conditions. Some louver models are impact tested to FEMA 361 requirements or AMCA 540/550 listed.
Let air in-keep water out.


Whether you want your metal louvers, ventilation louvers or vertical louvers to be a major design element or simply disappear into the facade of your building, CS has options that will work beautifully.

Knowing how building louvers will perform is critical to ensuring that it will stand up to real-life conditions on the job. We have our own on-site test chamber that allows us to test to AMCA louver standards.

Our Airflow Design Tool lets you select the proper free area and pressure drop every time.
EXTREME-WEATHER
LOUVERS
@htagvalue>
Construction Specialties Extreme-Weather Louvers are built to withstand extreme hurricanes, tornados and tropical storm conditions. They are perfect when your building:
• Needs a louver that has passed the Miami-Dade County
impact, pressure and cyclical test
• Requires total envelope protection from hurricanes—
including up to 170 PSF wind loads, missile protection
and 100% water penetration
• Will be subjected to extreme weather from hurricanes
and tropical storms
• Needs a louver to integrate with CENTRIA Formawall®
Dimension Series® insulated metal panel system
Storm-Resistant
Model DC-6804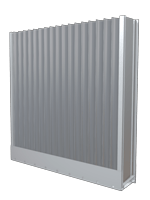 Storm-Resistant
Model DC-9614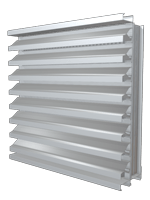 Louver
Impact Test
The EW-5210 FEMA Extreme Weather Louver is tested to withstand a 15 lb. wood 2x4 traveling at 100 mph. This louver was also tested for wind loads up to and including 300 psf.
Additional
Support
@htagvalue>
By continuing to browse or by clicking 'Accept', you agree to the storing of cookies on your device to enhance your site experience and for analytical purposes. To learn more about how we use the cookies, please see our privacy policy.