Are you sure your explosion vents will work?
@htagvalue>
Many blow-out explosion and pressure relief panel systems are larger or heavier than NFPA 68 recommends for maximum performance. And since these vent systems depend solely on proper field installation, they could be extremely unreliable. CS Explovent is the only field testable explosion and pressure relief vent system. With other vent systems, you won't know until there's an explosion.
See all Safety Venting Solutions
Designed to meet NFPA Guidelines

Factory Mutual tested and approved. Explovent safety vents are engineered to be lightweight and fully calibrated for quick release at very low pressures.





Explovent: testable, resettable

Explovent panels are testable at any time, and unlike blow-out siding, Explovent is resettable after an event.

Meets all codes

In addition to meeting NFPA 68, Explovent conforms to IFC section 911 and all building codes.
Explovent's patented release mechanism is factory calibrated for release at very low pressures (typically 20-30 P.S.P.), yet keeps panels closed until an event occurs.
FM approved Explovent panels are lightweight to release quickly during an explosion.
Once the pressure of an explosion has been relieved the panels return to a near closed position, allowing air to return into the room to address implosion concerns.
View video
CLIENT
TESTIMONIALS
@htagvalue>
"The fact that Explovent can be tested at any time, gives me peace of mind."
-Travis Anderton
See our testimonials
PUTTING IT TO
THE TEST
@htagvalue>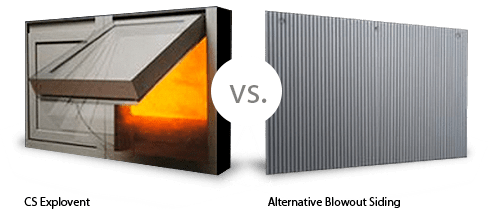 Explovent vs. other Explosion Venting Solutions
Combustible dust, gas and chemical explosions remain one of the deadliest realities plaguing the processing and storage plants of our nation's industrial and manufacturing sectors. With over 200 dust related fires and explosions reported in 2008, causing the injury and death of workers and complete destruction to buildings, can you afford not to use Explovent?
CLIENT
LIST
@htagvalue>
Pfizer

Kimberly Clark

Proctor & Gamble

Motorola

General Motors

Kellogg's

Micron

Endo Pharmaceuticals

3M Companies
Walter Reed Hospital

Brookhaven Labs

TRW

Amoco

Nestle

Nissan

Dow Chemical

Ashland Chemical

Wrigley
BD Medical

Siemens

DuPont

Dole Foods

EPA Laboratories

Glidden Paint

Goodyear

Gillette

Hershey Chocolate
Additional
Support
@htagvalue>
By continuing to browse or by clicking 'Accept', you agree to the storing of cookies on your device to enhance your site experience and for analytical purposes. To learn more about how we use the cookies, please see our privacy policy.