Inspiring Hospitality
@htagvalue>

Whether it's a hotel's connectivity to the local community or the amenity offerings inside, a hotel brand's guest experience is strongly tied to the details of its design. Hoteliers, architects, and designers seek to create an authentic and localized ambiance centered around a brand's culture.

To help achieve these goals, CS offers a range of interior and exterior product solutions that transform a hotel's brand vision into reality. Explore our hospitality design brochure to find inspiration for your hotel.
Hotel
Spaces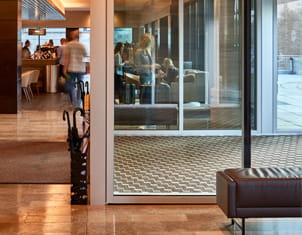 Entrances
Make the right first impression with CS entrance flooring, mats and grids, designed to complement your brand's aesthetic and extend the lifecycle of your main floors by keeping them clean, dry, and safe. Our systems work by scraping dirt and water off footwear and allowing debris to fall through a recess.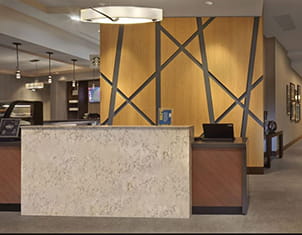 The Lobby
The lobby is the most recognizable and high-traffic area in any hotel. It brings guests together, acts as a hub for the hotel's offerings, and shapes the guest experience. We have the products you need to customize and enhance your environment and create an experience your guests won't find anywhere else.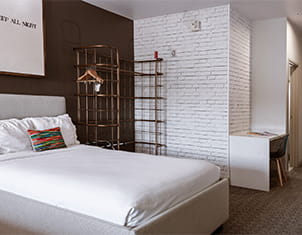 Guestrooms
The guest room is often a "home away from home." Guests want unique and clean environments where they can feel comfortable and connected. CS products provide long-lasting protection from typical abuse while meeting the needs of the modern traveler.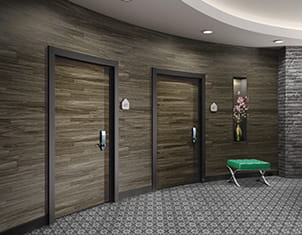 Corridors
CS products allow designers, brands, and owners to extend the design aesthetic into the hallways while also protecting doors and surfaces from the damages of luggage, carts, and guests.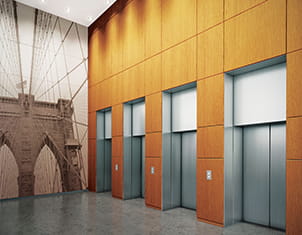 Elevators
Luggage, storage carts, and constant traffic can destroy elevator interiors and lobbies. CS Acrovyn® interior protection systems are stylish and easy to clean solutions that help extend the life of your elevator lobbies and interiors.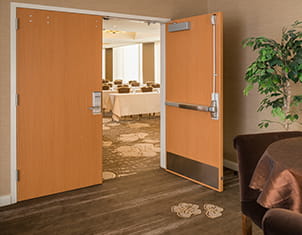 Meeting Rooms
From corporate events and seminars to parties, meeting rooms service a wide range of functions, all of which can create future customers for your hotel. CS products are made to be both beautiful and functional to bring a polished look to your meeting room spaces.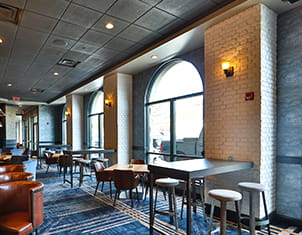 Restaurant + Bar
A hotel's dining atmosphere is as much a part of the experience as the food served. Whether you are designing for a grab-and-go breakfast counter or a luxury lounge, CS products will enhance the functionality and design of a space.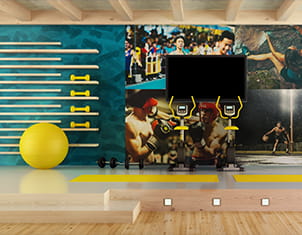 Wellness + Spa
CS products align with a hotel brand's desire to offer better wellness options for guests through products that shape healthy, sustainable environments.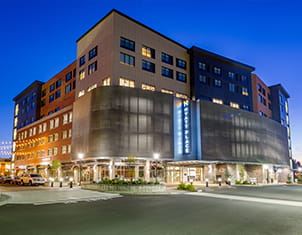 Exteriors
CS exterior product solutions allow architects to defy traditional design conventions and achieve their vision—without sacrificing performance. Our louvers, grilles, and sun controls are weather-resistant, easy to maintain, and easy to install.
Service
+ Innovation
@htagvalue>
CS is trusted by top hotel brands to achieve a better and more efficient store design across their locations.
We continue to push product innovation and advancements to meet the ever-changing demands of the retail and hospitality markets. Our National Accounts team is dedicated to serving the needs of multi-unit brands with a centralized specification to provide the right products for your locations, exactly when you need them.
Learn about our National Accounts team and discover how their unique service model can help your brand.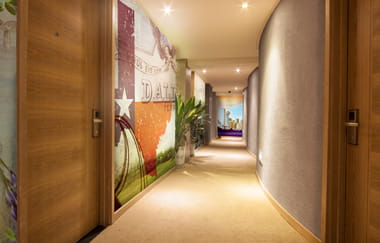 GALLERY OF
CS PRODUCTS IN WORLD-CLASS PROJECTS
@htagvalue>
Additional
Support
@htagvalue>
By continuing to browse or by clicking 'Accept', you agree to the storing of cookies on your device to enhance your site experience and for analytical purposes. To learn more about how we use the cookies, please see our privacy policy.