Retail + Hospitality
Golisano Children's Hospital
Challenge
The largest capital project in the University of Rochester's history—Golisano Children's Hospital—opened its doors in July 2015. The eight-story, 245,000-square foot building offers a range of pediatric services. When the plans were drawn, Ballinger focused on the feedback provided from family focus groups at the start of the project, which requested consistent, clear wayfinding to reunite families with their children quickly and easily.
Solution
Architects at Ballinger worked with ArtHouse Design in Denver to create custom themes and consistent icons for each floor of Golisano Children's Hospital. Impact-resistant Acrovyn by Design was used to display the playful graphics set in the scenery of upstate New York. The nine themed 'neighborhood' floors also have clear, consistent wayfinding to reduce anxieties and put patients and their families at ease while navigating the space.
Project: Golisano Children's Hospital
Location: Rochester, NY
Architect: Ballinger
The walls of Golisano Children's Hospital's new building feature unique imagery on each floor
Download Case Study
Golisano Children's Hospital
children and their families each year
pediatric surgeries performed annually
CS PRODUCTS
USED ON THIS PROJECT
PARTNERING TO CREATE
CUTTING EDGE SOLUTIONS
@htagvalue>
The 245,000-square foot, eight-story Golisano Children's Hospital provides a wide range of pediatric services. ArtHouse Design, a Denver firm with expertise in wayfinding and visual experiences, in Denver was hired by Ballinger to create fun, custom themes for each floor of the new facility to engage patients and visitors. This allowed Golisano Children's Hospital to achieve its goal of creating a diverse pediatric care environment with a playful atmosphere.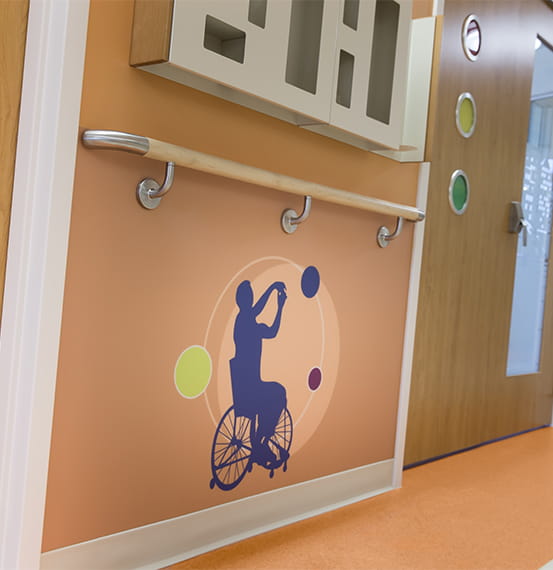 Additional
Support
@htagvalue>
By continuing to browse or by clicking 'Accept', you agree to the storing of cookies on your device to enhance your site experience and for analytical purposes. To learn more about how we use the cookies, please see our privacy policy.