Healthcare
Dell Children's Medical Center
Challenge
Creating an environmentally responsible facility was at the core of the design goals that Polkington Group Architects Inc. had for the W.H. and Elaine McCarty South Tower. Sustainable environments benefit hospitals for not only the health of the environment but all who come in contact with it as well. Seton Healthcare Family's commitment to making Dell Children's Medical Center one of the most sustainable hospitals in the world brought top designers and responsible manufacturers together to create an atmosphere where human health can flourish.
Product design and durability are critical to ensure long life and to support a more sterile environment. Selecting products that contain safe and healthy materials is equally important. DCMCCT's commitment to build for a healthy environment made Construction Specialties a natural choice to provide suitable building products for the new tower.
Solution
In 2008 the DCMCCT became the world's first Leadership in Energy & Environmental Design (LEED) certified Platinum hospital. This new addition has earned another first by achieving LEED for Healthcare Platinum designation, keeping in line with the hospital's efforts toward a more sustainable built environment. CS products that helped the project earn this accolade include Cradle to Cradle Certified™ Silver Acrovyn® interior wall protection, PediTred® LP entrance flooring and expansion joint cover systems as well as Acrovyn® Doors. Additionally the Acrovyn® interior wall protection and PediTred® LP products carry the CS building product transparency label.
Project: Dell Children's Medical Center
Location: Austin, TX
Architect: Polkington Group Architects, Inc.
Download Case Study
CS PRODUCTS
USED ON THIS PROJECT
PARTNERING TO CREATE
CUTTING EDGE SOLUTIONS
@htagvalue>
The W.H. and Elaine McCarty South Tower of Dell Children's Medical Center of Central Texas (DCMCCT) in Austin, Texas opened its doors to the public May 2013 after just 15 months of construction. The $48 million project includes a new three-story tower totaling 83,610 square feet with 72 beds. This is the region's first and only acute care pediatric rehabilitation unit, featuring dedicated inpatient care, a toddler rehab and a therapy gym. It also includes a state-of-the-art epilepsy monitoring unit and numerous family-centric features. Children benefit from continuing their education and social interaction that the community rooms provide. Designers also incorporated a family business center to allow parents to work on site.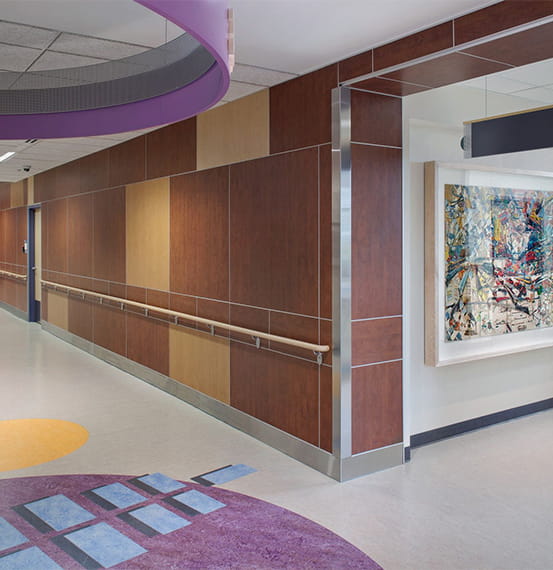 Additional
Support
@htagvalue>
By continuing to browse or by clicking 'Accept', you agree to the storing of cookies on your device to enhance your site experience and for analytical purposes. To learn more about how we use the cookies, please see our privacy policy.