Putting Your Best Foot Forward
@htagvalue>
What does it mean to have heel-proof entrance flooring in your building and why is that important to you? We'll cover the reasons by ensuring your facility can accommodate even the most slender stiletto heels, from definition to safety and compliance considerations.
What Does
It Mean?
@htagvalue>
What is a heel-proof entrance flooring product?
When an entrance mat or grid is heel proof, its rails are close enough together that a passing stiletto heel will not fall through the rails or become stuck. The pedestrian can safely walk across the mat without injury or the risk of a slip, trip, or fall.
@htagvalue>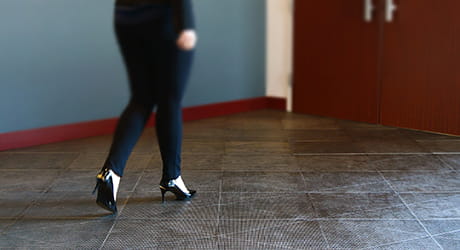 Why is a heel-proof product important for an entrance?
Facility owners and architects are responsible for making sure that every product in their building is safe for the public's use, especially if they have the potential to play a part in slip, trip and fall risks.
An entrance mat or grid that is impenetrable to even the slenderest stiletto heel is relevant to a building's safety.
Protection
+ Safety
@htagvalue>
What makes our entrance flooring heel-proof?
Our products are heel-proof because the rails on our entrance mats, grids and specialty products are close enough together that a stiletto heel will not fall through or become stuck. At the same time, the rails are still far enough apart that the system can function as intended with debris falling through the rails and into the system's recess.
How are our products ADA compliant?
Openings in floor or ground surfaces cannot allow passage of a sphere more than ½ inch (13 mm) diameter, such as that of a high heel or cane/walker. For exceptions, see the 2010 ADA Standards for Accessible Design document. Also, elongated openings must be placed so that the long dimension is perpendicular to the dominant direction of travel.
Better
Solutions
@htagvalue>
We understand that every project has its own special criteria for entrance mats + grids, and that our standard designs may not be right for your needs. We have a team of technical experts that can work with you to design a custom entrance flooring product that meets your building's exact requirements.

Keep
this article
@htagvalue>
It's our mission to provide the best quality entrance flooring products, and the most helpful resources. Download and keep this article for reference.
Additional
Support
@htagvalue>
By continuing to browse or by clicking 'Accept', you agree to the storing of cookies on your device to enhance your site experience and for analytical purposes. To learn more about how we use the cookies, please see our privacy policy.