Are you wondering if Acrovyn wall panels are the best wall panels for your next project? Acrovyn is tough and durable and available in hundreds of design options. Facilities take a beating daily, and Construction Specialties understands how important it is for a facility to stand up to abuse while also breathing life into commercial interiors. Acrovyn wall panels are also infinitely customizable with Acrovyn by Design®. Acrovyn be Design allows you to customize wall panels with any graphic, pattern, illustration or photograph while maintaining the Acrovyn wall panel specifications and qualities that allow our wall panels to endure abuse.
Does your facility constantly endure damage from carts, gurneys or equipment? Our Acrovyn wall panels are also designed to easily coordinate or even match with Acrovyn wall protection products such as corner guards and handrails.
What is Acrovyn Wall Protection?
Acrovyn wall protection is the best way to protect walls from damage. Acrovyn wall protection includes handrails, crash rails, corner guards and door & frame protection. Available in dozens of styles and finishes, all of our Acrovyn wall protection is designed to work together in a seamless and easy-to-maintain system.
What Material is Acrovyn?
Acrovyn is a PVC-free PETG with no halogens or other known persistent bioaccumulative toxins (PBTs). Acrovyn is:
Tough and durable

Available in dozens of colors and finishes including woodgrains and brushed metal patterns

Infinitely customizable with Acrovyn by Design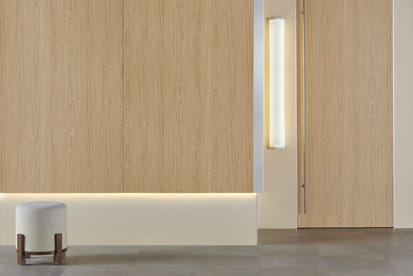 How Do You Install Acrovyn Wall Panels?
Acrovyn wall panels can be installed in three ways:
Sure SnapⓇ mounting system - Easily install and replace panels in case of damage or a design refresh. Multiple trim, edge, reveal and panel depth options available.

French Cleat - Great for limited clearance installs, or when quick removal may be necessary. French Cleat uses interlocking rails and coordinates with the Sure Snap mounting system.

Permanent Adhesive - Designed for permanent placement or where minimal clearance is needed. Applied with structural adhesive.