You have probably heard about the "Big One"—a hypothetical earthquake of magnitude ~8 or greater that is expected to happen along the notorious San Andreas Fault. But have you thought about what it will take to keep emergency services up and running in the aftermath of such a colossal seismic event?

The team behind the Dennis and Carol Troesh Medical Campus at Loma Linda University Medical Center spared no detail when it came to earthquake safety. CS partnered with architect NBBJ, engineers Arup and Stantec, and builder McCarthy Building Co. to provide expansion joint solutions and louvers for this record-breaking project in Southern California.

The 992,000-square-foot modern medical campus, completed in August 2021, rests just half a mile away from the San Jacinto Fault, a branch of the San Andreas. When the inevitable earthquake strikes, Loma Linda will be ground zero for an entire region of people looking for emergency services, safety, and healing.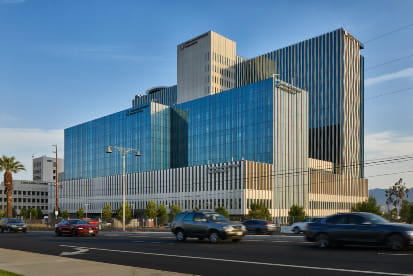 The two healthcare buildings—a tower for children and another for adults—were designed and engineered to withstand earthquake damage and continue operations during and immediately after extreme seismic activity. How? By being able to move six inches vertically and up to 42 inches laterally without suffering structural damage.

To accomplish this feat, engineers from Arup incorporated a seismically base-isolated structural system to effectively decouple the buildings from the ground beneath them. A "dry moat" surrounding the building gives space for the structure to remain stationary as the ground moves around and beneath it.

The need for a stable walking surface during a seismic event led to a deep-dive collaboration with Construction Specialties. "That's really where the products from CS would come into play," said Rees. "[CS was] able to design and provide these seismic joint covers, in this case, these very large moat covers all around the building that provide a walking surface up to the face of the building."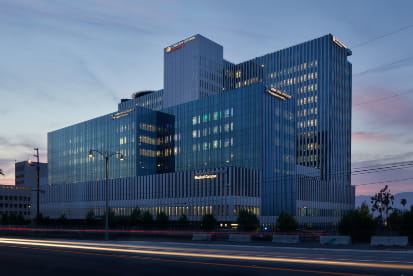 This collaborative engineering effort lasted nearly four years, requiring modeling and testing to meet the stringent code requirements of multiple regulatory agencies.

The resulting expansion joint covers provide a stable walking surface all the way up to the building's edge. Under seismic conditions, the walking surface is stable, safe, and resilient. Once the shaking stops, the covers return to their original position. Pedestrians can safely move over the dry moat before, during, and after seismic activity. In fact, very few visitors of the hospital would know that they are crossing over a large moat when entering and exiting. "To complicate things even more, we had two buildings that acted independently of each other connected by walkways or bridges, so we had massive expansion joint systems between the adult tower and the children's tower," said Buzz Harwood, president, Integrated Marketing Concepts, the representative agency for CS in Southern California.

Loma Linda Medical Center's monumental resilience engineering claims several notable construction records. Currently, it is the tallest hospital in California and the tallest building in San Bernardino County. In addition to a reinforced concrete floor, the complex's superstructure includes a 25,000-ton steel frame, making it North America's heaviest building. The facility is designed to provide 75 years of service life.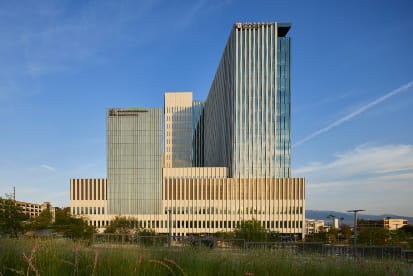 "The engineering of this building has been designed in such a manner that it will be up and operational under what might be considered to be the most catastrophic earthquake that we've ever seen," said Buzz Harwood, president, Integrated Marketing Concepts, the representative agency for CS in Southern California.

While adherence to changing state code was the impetus to this groundbreaking facility, at the heart of the project is the ability to combine new technology and a passion for resilient architecture in a project that will have a major impact on the region. Rees said, "As a designer, it's extremely fulfilling to work on projects like that because, fundamentally, you know you are making a real difference in people's lives."
Read our full case story here for more details about how we accomplished this earth-shattering project and check out the video below.