If it's attached to a wall or another support and is used as a handrail, it still may not really be one—at least not by Americans with Disabilities Act (ADA) standards. People with disabilities rely on proper safety features for their mobility and accessibility. They struggle with physical barriers to access buildings every day, and the ADA protects their rights. Walkways, doors and handrails, for example, must comply with ADA guidelines.
What are the ADA requirements for handrails?
ADA-compliant handrails are required for stairs and walking surfaces with a running slope that is greater than 5% or 1:20 (i.e., a ramp). If the hallway is fairly level, a handrail that meets compliance specifications isn't required. However, if the building occupants – in senior living or healthcare facilities, for example – could be at risk of falling, ADA-compliant handrails are needed.

The specific requirements are as follows:
Height: Must be between 34 inches and 38 inches from the walking surface to the top of the gripping surface
Clearance: The minimum space between the gripping surface and the wall or adjacent surface is 1.5 inches
Gripping surface: Cannot be obstructed from either the top or the sides of the gripping surface. There can be no sharp or abrasive elements on gripping surfaces or adjacent surfaces and no rotation within fittings
- On slopes of less than 5%, the bottom of the gripping surface can be obstructed along the entire length when crash rails and bumper guards are essential.
- If the handrail is not obstructed along the whole length, the bottoms can only be obstructed for 20% of the length.
- Any horizontal projections like mounting brackets, should be positioned 1.5 inches minimum below the bottom of the gripping surface of the handrail.
Cross section: If the handrail has a circular cross section, its diameter must be no less than 1.25 inches and no more than 2 inches. If there is a non-circular cross section, it must have rounded edges and meet perimeter and cross-section dimensions: the perimeter must be a minimum of 4 inches and a maximum of 6/25 inches, and the cross-section dimension can be no more than 2.25 inches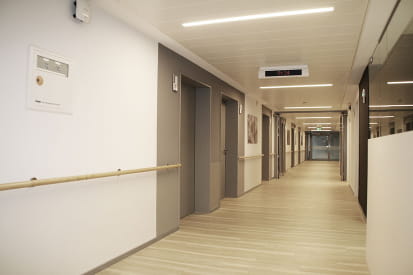 Who enforces ADA standards?
All new or newly altered facilities need to be usable and accessible to people with disabilities. If a facility is required to comply with ADA Standards, it may also need to meet accessibility requirements established by state and local officials. They are responsible for enforcing state codes, which usually happens during building inspections. When there's an inconsistency between state/local codes and ADA requirements—when state and local accessibility is equal to or greater than ADA—building owners and designers must follow both federal and state laws.
Whereas state code is enforced locally—usually through plan review and building inspections—the ADA relies on litigation in federal courts. The ADA authorizes the Department of Justice to facilitate compliance and mitigate disputes between federal and state enforcement, ensuring state and local accessibility laws meet or exceed ADA requirements. In the event a lawsuit is filed, compliance with certified code may be submitted as ADA compliance.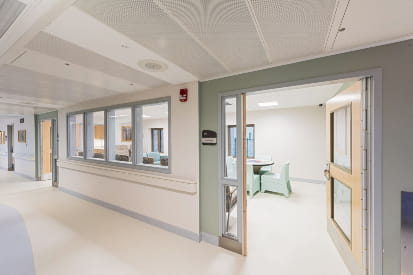 What happens in the case of non-compliance?
Non-compliance can result in ADA lawsuits—and the number of lawsuits is growing. In 2019, there were more than 11,000 suits filed on all grounds—a rate that has quadrupled in the seven years leading up to 2019. Those were not all relating to non-compliant handrail specifications, of course, but a violation is a violation—and it comes with severe penalties. Incurring fines and a damaged reputation are one thing, but non-compliance puts the customer's safety and well-being in jeopardy, which should be any company's top priority.
Construction Specialties' handrails: The difference between mobility and immobility

How a handrail or grab bar is designed can make the difference between mobility and immobility. However, it can facilitate mobility and still be aesthetically pleasing. From sleek and simple to more robust for extra impact protection, Acrovyn's models are sustainable, easy to clean and cost effective. They also aid mobility as well as complement your facility's interior design.
Acrovyn Handrails, crash rails and corner guards come in a variety of finish options including solid colors, ranging from neutrals to bright bold colors, as well as woodgrain and brushed metal patterns.


Acrovyn Renaissance™ Handrails are available in a variety of real wood species and stain options – perfect for spaces looking for an elevated aesthetic.


Platform Handrails offer a combination of a handrail and crash rail. This series of handrails allow architects and designers to create a perfect complement for their interior by mixing and matching finishes, including Acrovyn, real wood, stainless steel or powder-coated aluminum.


Single Line Handrails offer a safe, secure grip, giving patients peace of mind. This series of handrails provide a sleek look for spaces requiring a more modern, subtle aesthetic.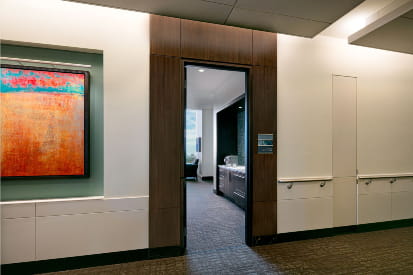 Many of CS' handrails also offer extra features and options to help address unique needs. For example, Quick Lock makes the installation of CS handrails quick and easy—and without needing to drill holes in the retainer. Acrovyn ligature-resistant handrails feature continuous aluminum mounting brackets, helping meet the safety requirements in behavioral health facilities. To meet the demand for increased weight tolerances, CS offers high-load bariatric handrails that can withstand more than 1,000-pound peak loads. These models popular in designated bariatric wings, as well as emergency rooms and outpatient service areas.